About Us:
North Star Leather
North Star Leather began its history in 1969 in Boston. Our founder and Owner Steve Batson discovered the joy of hand crafted leather. From street vending there in Boston, we've moved south to a small town called Ruby, SC. Our product line has increased to over 150 products. We still do our best to offer quality leather goods at reasonable prices. With 80% of leather goods now-days made overseas, we stand out from the crowd with quality leather goods made here in the U.S.A. To get an idea of our quality check out what our customers have said.
Our Guarantee:
North Star Leather's products are guaranteed for as long as you own them. We guarantee
all zippers, seams, and hardware. We do not guarantee the finish problems, soiling, cuts, etc caused by wear & tear. We will pay your postage both ways if you product is defective or needs repair in the first year. Thereafter we request $5.00 for return postage. If for some reason you have a problem not covered by the above please call.
We respect your privacy, we never sell or give your information to Anyone.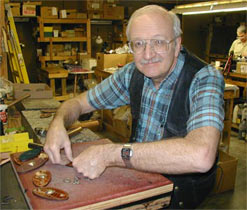 FAQ
What is your shipping Policy?
On standard items we will ship within 3 to 5 business days of receipt of your order. Special orders usually take between 5-7 days. We recommend that you choose UPS because it is more secure and offers order tracking. With normal ground shipping, or Standard U.S.P.S service expect 7-14 days for delivery. If there is going to to be a delay because an item is out of stock, we notify you by phone or Email.
What's your return Policy?
All returns must be made within 30 days of purchase. All items must be in unused/undamaged condition. The product price and applicable taxes will be refunded, or you may make an exchange if you prefer. (we reserve the right not to refund shipping costs) If you have a problem of feel the item was defective, please feel free to call and we'll try to satisfy you.
Can I get a different color from what is offered?
In most cases, yes. We have quite a variety of hide that will work with our items (Much more that we could possible list on the website). Just give us a call to check if we have the color you'd like (800-338-7637). If you need a purple backpack or a red tote bag we can do it. All sales on specialty items are FINAL.
Can I get a longer or shorter or wider handle on my bag?
In many cases, yes; the cost is $5.00 extra because we will have to make the special bag from scratch just for you. Remember if you add 2 inches to the handle the bag will hang 1 inch lower over your shoulder. (Please call for these specialty items 800-338-7637). All sales on specialty items are FINAL.
Do you do custom work or Repairs?
We guarantee our products will do free repairs (see above guarantee), however we are not set up to repair products made by other manufactures. We also do not make up special custom items, if you have an item that you'd like us to make for your business in quantity, give us a call to see if it's possible.
What are range marks?
Leather is a natural material and as such it is subject to minor blemishes and imperfections. These are referred to as range marks. They are actually healed scars and scratches that the animal incurred while alive. These are not Defects but authenticate that the material is real leather and make each piece truly one of a kind.
What is the difference between Leather and Suede?
Leather starts out often as thick or thicker than a belt. A layer is split off the top to produce smooth leather like you see in shoes, jackets, furniture etc. The bottom layer is then buffed to give it the velvety feel that is characteristic of suede.
How do I care for Suede?
If you purchase a suede product from us we'll include a Suede Care Sheet that explains how to keep your suede bag or hat looking great for a long time.
Do you Wholesale your products?
Yes, if you are a retailer who would like to sell our leather products in your store, please call
for more information: 1-800-338-7637